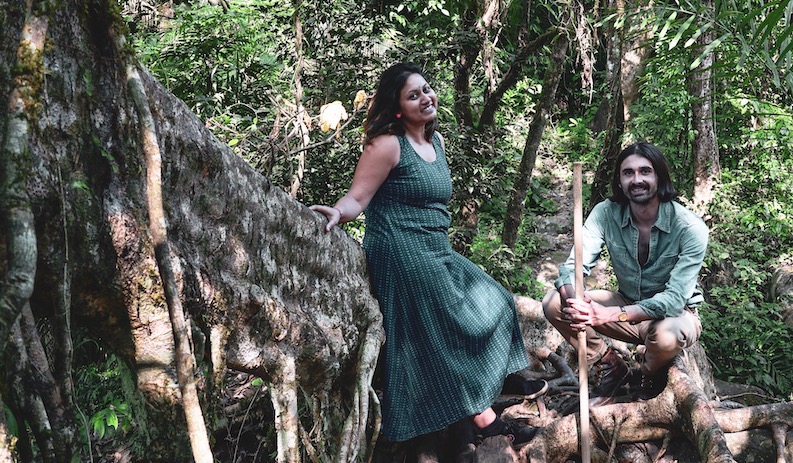 WORLD WILD WEB & TRITHA (IND/DE)
Berlin-based french producer World Wild Web joins forces with Indian vocalist Tritha Sinha for a psychedelic trip into the garden of electronic bliss on HIFI/LOFI Records, backed by two remixes from long-time DFA collaborator The Juan MacLean, and by HIFI/LOFI Records boss Franz Matthews.
Tritha Sinha from New Delhi, India and Manuel aka World Wild Web from Nantes, France first met in 2014 at a traveling caravan festival in the South of France while touring with their respective psychedelic rock bands. A collaboration was already on their minds right from the start.
In 2015, when Manuel went to India to discover its culture and music, the two of them spent more time together to exchange their knowledge about music and to develop a common language. Tritha already knew Europe and France well when they first met, but it was only after Manuel learned more about the sound and the culture of India that he became able to produce tracks resonating with Tritha's voice.
In the summer of 2019, the two of them finally found the time to record some tracks together in Manuel's studio in Berlin. Together, they came up with a mesmerizing and spiritual set of tracks, uniting their two very different cultures into an enlightening, that can be sometimes sound as dark as an Acid Arab tune that would take an Indian twist (Prophet), or as colorful as a 70's Bollywood-film choreography (Peacock Garden).

But the trip doesn't quite end up here, HIFI/LOFI Records are very happy to welcome a legend of the DFA family in the house, in the name of The Juan MacLean. We've been spinning and dancing countless times on his music, so it's a great pleasure to have him on board with a trippy remix full of punchy arpeggiated stamina. Last but not least, HIFI/LOFI label-boss Franz Matthews finishes the story by grounding us back to Earth level, with a darker version of Peacock Garden that will satisfy every amateur of World-infused Downtempo Disco.

WORLD WILD WEB (WWW) was founded in late 2018. After years of playing various instruments and leading the psychedelic band Blondi's Salvation, the need for fresh inspiration and more artistic freedom pushed Manuel to explore electronic music and its flexibility. His recent studies of Indian music opened up new paths for his musical creations which he is now exploring with Tritha. Fascinated by how modernity and the sound of computers are interfering with traditional music from all over the globe, he is allowing all kinds of genres to infiltrate his consciousness and influence his music, always in search of common characteristics between distant styles. His sound is colorful and crowded, an organic conglomerate of distinct global influences mixing experimental dance music, 70s psych, African electronic, Indian music and Acid House.

Movements of music and sound is the way, her soul dances. TRITHA SINHA is a vocalist, composer and music producer based out of Delhi & Goa. She was trained in Indian classical music from the age of five and studied in famous gharanas in India. She earned her license to break the rules, to unlearn and re-interpret classical methods, and made herself famous as a music activist in India. Tritha Sinha released eight albums, appeared in 18 countries and was featured on BBC World, ARTE, Canal+ and by Magnum Photo Agency in their exhibition Women Changing India.
The last decade saw Tritha blending her classical in different avatars - the Indo-French psychedelic rock band Tritha Electric, the women collective SPACE and the sacred fusion duo Tritha & Martin. Tritha is now dabbling in collaborations with artists from different arts and media, she also conducts Indian music workshops and sound healing sessions across the globe and online.