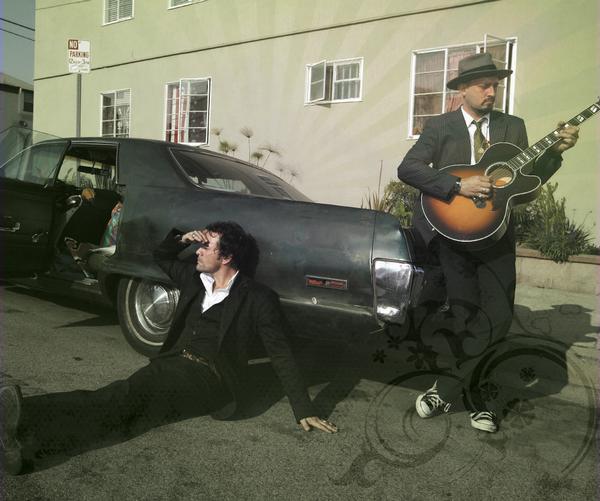 The Green Car Motel (USA)
License territory: Europe
Hinter THE GREEN CAR MOTEL verbergen sich Rick Garcia und Rene Reyes. Mit der Vermischung von englischen- und spanischen Wurzeln haben beide Künstler es überaus gut verstanden, ihren ureigenen Musikstil zu kreieren. Die Zeitschrift ,,Entertainment Today" beschreibt diesen Musikstil als ,,No Border Rock". Aufgewachsen sind Rick und Rene in den Armenvierteln von San Diego, dem Herzen des südlichen Bundesstates Texas. Heute leben beide Künstler in L.A., die Metropole, die sie jetzt ihr wirkliches Zuhause nennen.

,,Wir fanden dieses Bild mit dem Auto und dem Motel so bezeichnend für unsere eigene musikalische Reise mit THE GREEN CAR MOTEL, das wir beschlossen, in das Motel einzuchecken, um gemeinsam diesen Abenteuer zu beginnen. Hier wollen wir unsere Musik aufleben lassen, hier hat das ganze angefangen und hier wird man sehen, wie sich die Geschichte weiter entwickeln wird!"

Rick Garcia und Rene Reyes haben zusammen und einzeln schon viele Songs geschrieben und auch live gespielt, allerdings zum größten Teil für amerikanische Blockbuster Filmproduktionen wie BROKEBACK MOUNTAINS, SEVEN POUNDS, COLLATERAL, NEXT, ILLEGAL TENDER, THE INTERPRETER, BANGKOK DANGEROUS, DOMINO, SAVING SILVERMAN, GLORY ROAD, BILD HORIZON oder TEXAS CHAINSSAW MASSACRE, um nur ein paar davon zu nennen.

So ist der Single Titel ,,Destino De Abril" z.B. der Titelsong aus dem Film COLLATERAL mit Tom Cruise.

Zusammengenommen, die Music der Band THE GREEN CAR MOTEL ist eine musikalische Melange aus dem Buch des Lebens. Die Emotion, dass tiefe Gefühl in den Songs spiegelt das wahre Leben wieder. Hier wird nichts verschleiert und auch nicht beschönigt.
So findet man auf dem Album von THE GREEN CAR MOTEL, eine neue Kompositionen, aber auch eine Reihe an bekannten Filmmusiken aus Filmen wie RED, COLLATERAL, BLIND HORIZON, NEXT oder SVEN POUNDS.
Gallery